What Remains
Hannah Arendt's notecards for "Remembering Wystan H. Auden"
When W.H. Auden used to visit Hannah Arendt at 370 Riverside Drive in New York City the neighbors would call the police because they thought a homeless man was trying to break into the building. Auden had one suit and one pair of shoes, and no amount of pleading on the part of Arendt could convince him that a man needed at least two. They would sit for hours after dinner, smoking, drinking wine, and talking about poetry.
Three weeks after Blücher's death, Auden unexpectedly proposed marriage one evening when he arrived for a visit. His proposal was platonic—a suggestion that they take care of one another in old age. Arendt told Mary McCarthy,
He came 'looking so much like a clochard' that the doorman accompanied him. He said he had come back to New York only because of me, and that I was of great importance to him, that he loved me very much . . . I had to turn him down . . . I am almost beside myself when I think of the whole matter . . . I hate, am afraid of, pity, always have been, and I think I never knew anybody who aroused my pity to this extent.
Arendt cared for Auden deeply, but she never counted him in her close circle of intimates. He was not a member of her "tribe." As she wrote, "I met Auden late in life at an age when the easy knowable intimacy of friendship concluded in one's youth can no longer be attained, because not enough life is left, or expected to be left, to share with each other."
But when Auden died on September 29, 1973, she was not prepared for the sudden loss of her disheveled friend. Arendt, an incredibly private person, broke into tears while teaching a class on political philosophy at the New School for Social Research before the memorial service. As Elizabeth Young-Bruehl recounts, a student consoled her and offered to accompany her to the church. Arendt had helped organize the memorial service at the Cathedral of St John the Divine, selecting some letters and photographs of Auden to be displayed.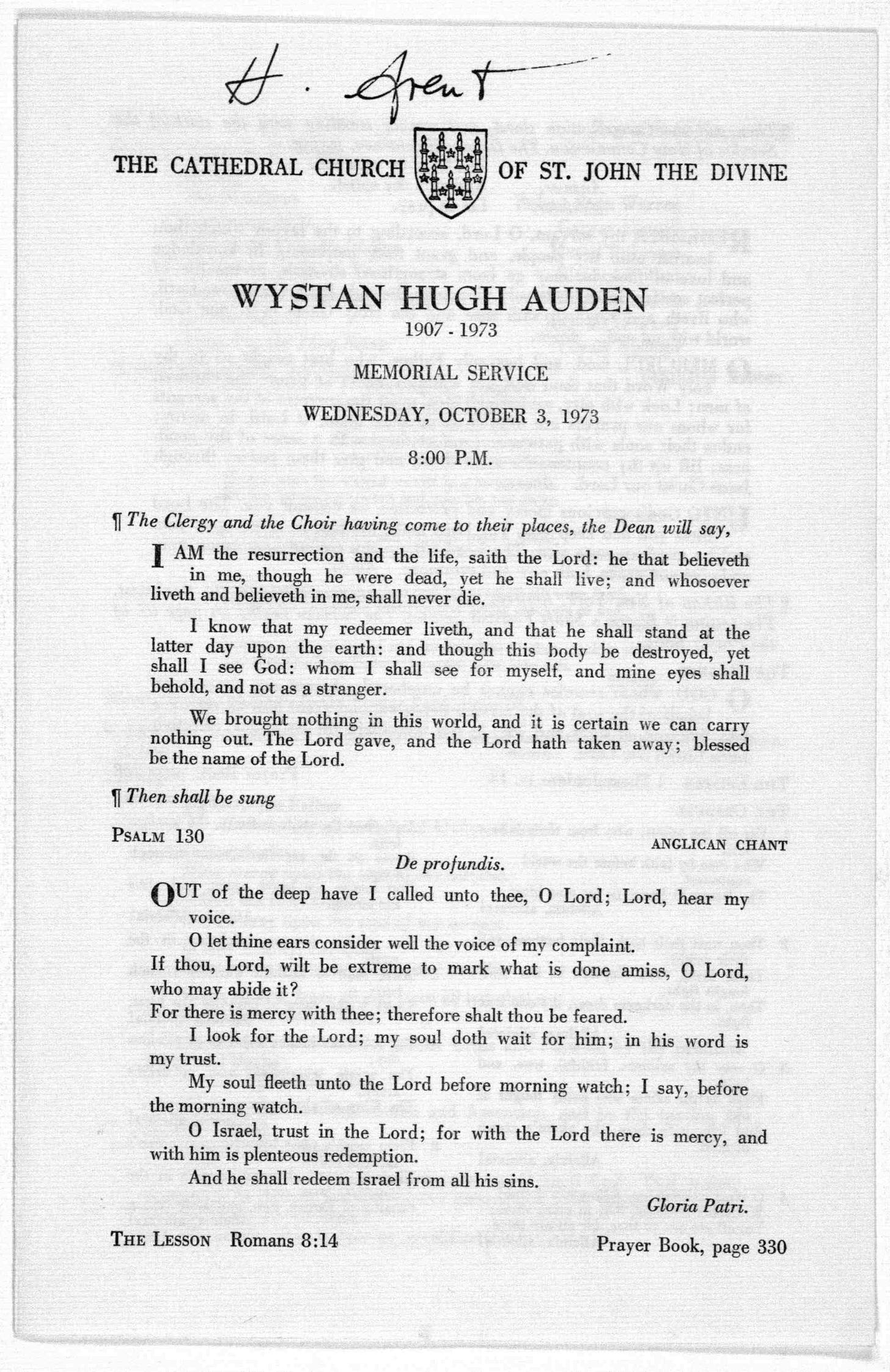 After the service, Arendt held her own remembrance, rereading Auden's poems in chronological order. She accorded poets a special place in the world. She thought the work of poetry existed between the invisible life of the mind and the life of action. And she argued, counter to Plato, that it was poets who bore the burden of truth, not philosophers.
The poem has worldly obligations. It must appear, come into existence. And yet, Arendt writes: "Poetry, whose material is language, is perhaps the most human and the least worldly of the arts, the one in which the end product remains closest to the thought that inspired it." Auden's poems never parted ways with common sense or reason. Instead, he brought sanity to the madness of the world.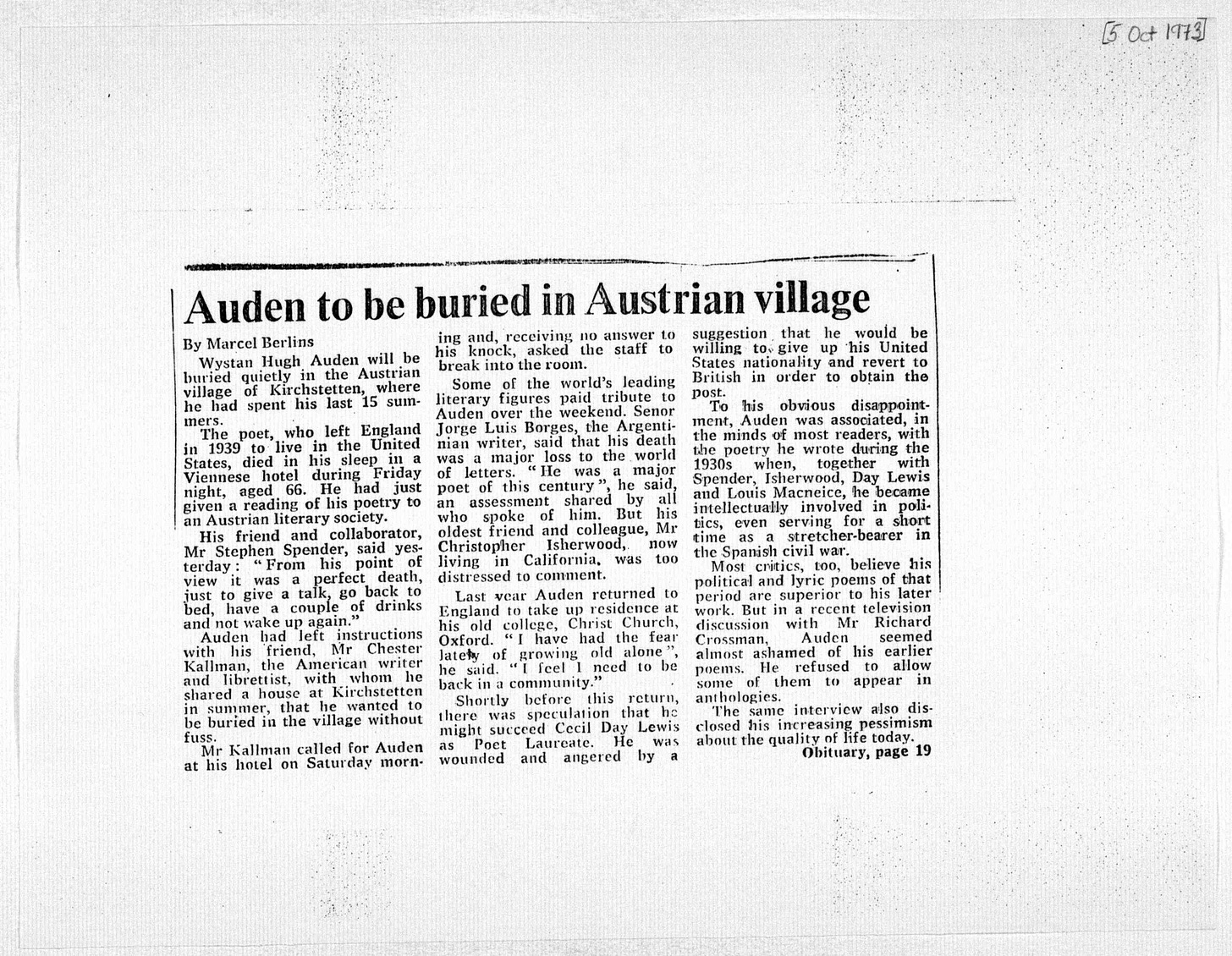 Friends sent Arendt obituaries and she assembled a file of newspaper clippings about Auden's life and death. Amidst the many letters she received was a request from Auden's literary executer, Edward Mendelson:
Dear Miss Arendt,

As you may know, Wystan Auden named me as his literary executor, and I wonder if I might be able to ask your help and advice from time to time, as I prepare new editions of Wystan's work? You already know far better than I can say how much Wystan relied on you, and I should be more than grateful if I could continue to ask your help. May I pay you a visit, perhaps at the end of the month, or early next year?
Arendt initially refused Mr. Mendelson's request but later acquiesced. She had no intention of handing over the letters and poems Auden sent her, but typed up a short letter with the necessary dates and offered her phone number: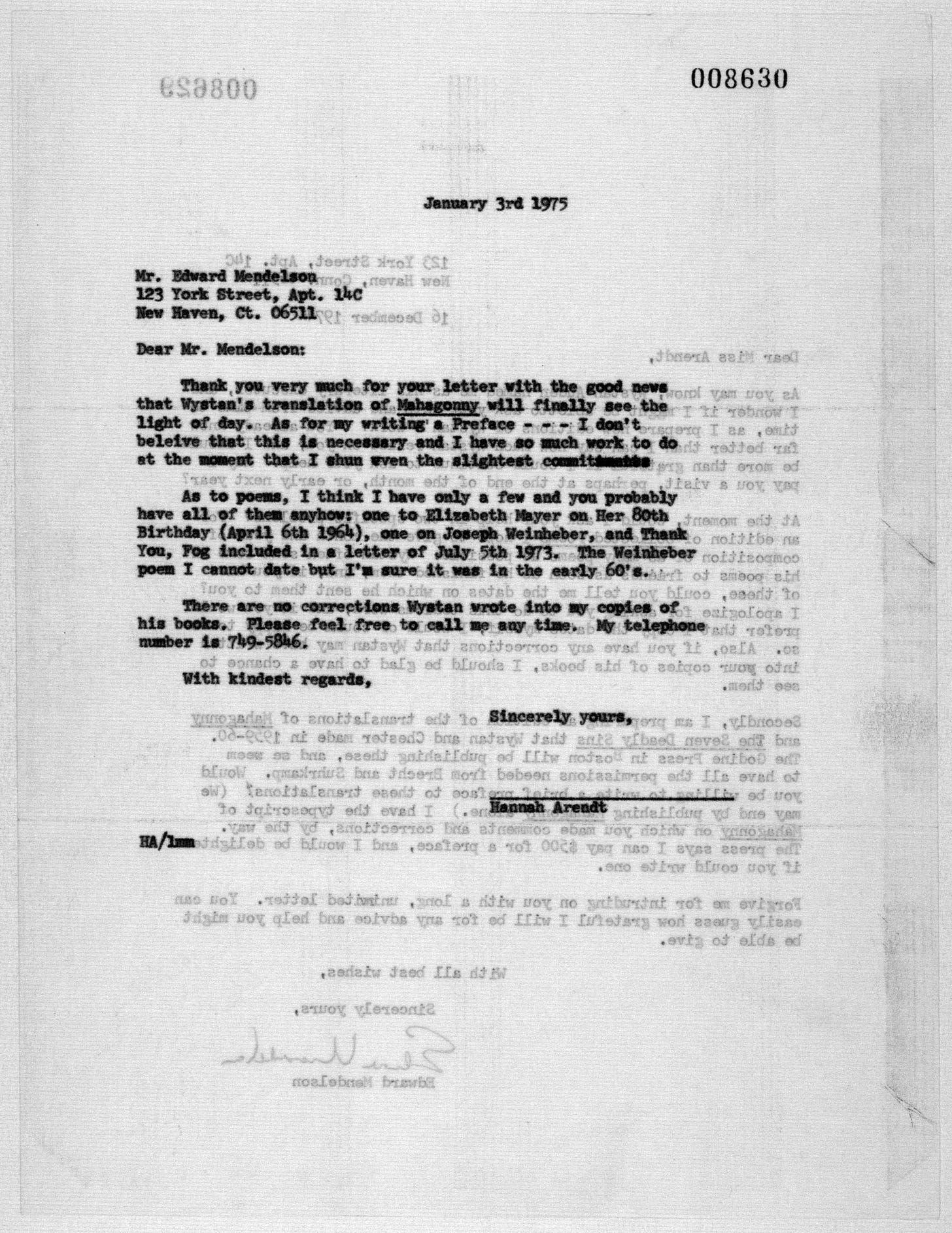 The letter implies that Arendt had a hand in editing Auden's poems. Or, at least, that she was an interlocutor for his craft. According to Mendelson, Auden would often make corrections on his poems while visiting friends, and was in the habit of sending unfinished drafts.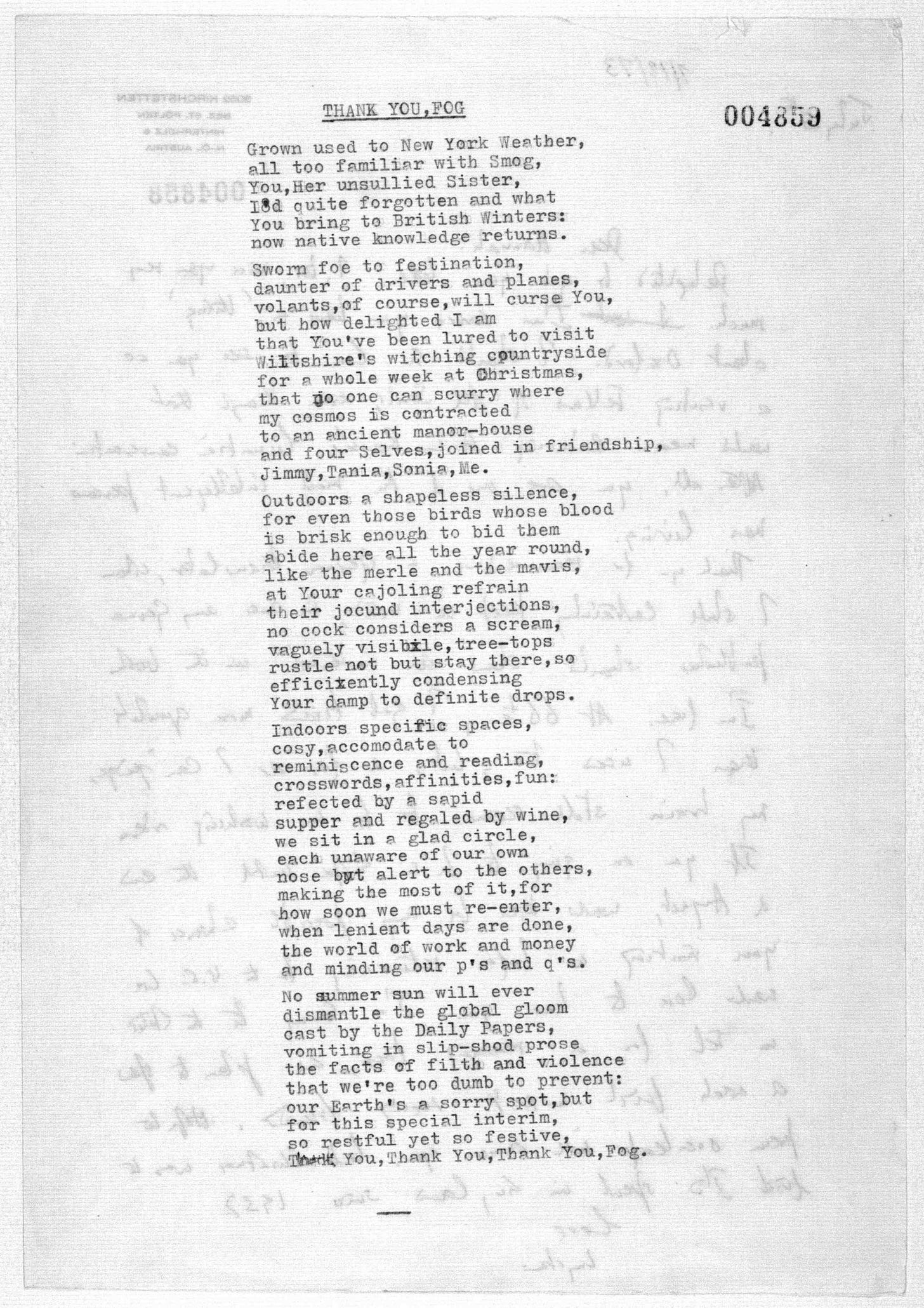 As Arendt worked on her essay, "Remembering Wystan H. Auden, Who Died in the Night of the Twenty-eighth of September, 1973," she kept a stack of notecards on her desk with quotes from his work. The essay originally appeared in the New Yorker in 1975. (It was reprinted in Thinking Without a Banister.) In the essay, Arendt approaches Auden's life and work as a friend: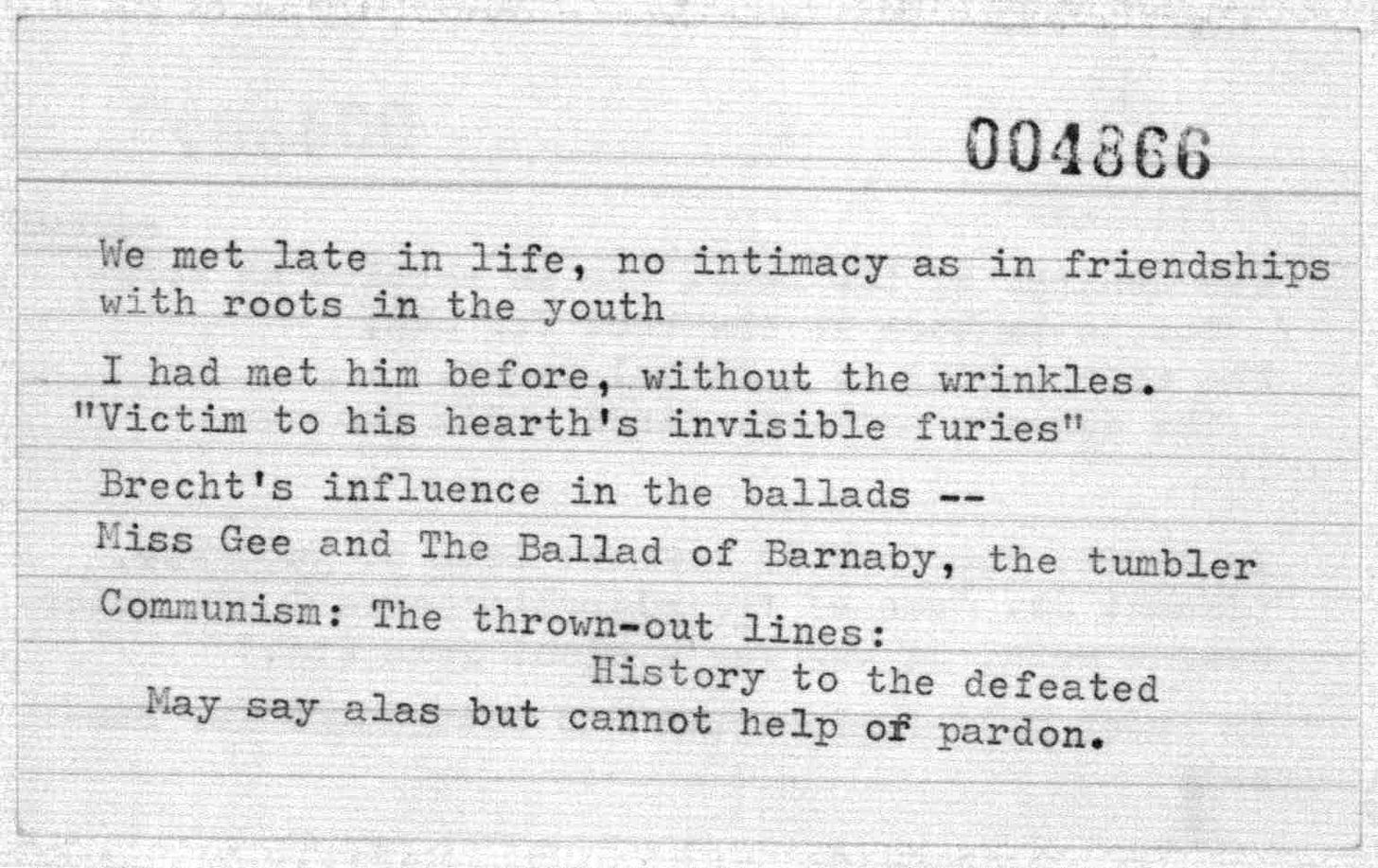 She knew that Auden's gift came with a price. And as she worked on her remembrance, she meditated on the misery that had visited him throughout his life:
What made him a poet was his extraordinary facility with and love for words, but what made him a great poet was the unprotesting willingness with which he yielded to the 'curse' of vulnerability to 'human unsuccess' on all levels of human existence—vulnerability to the crookedness of the desires, to the infidelities of the heart, to the injustices of the world.
This was the price one had to pay in worldly terms to exist in that in-between space, caught between the world of appearances and immortality. Auden recorded this debt in his work: Time will say nothing but I told you so,/Time only knows the price we have to pay;/If I could tell you I would let you know.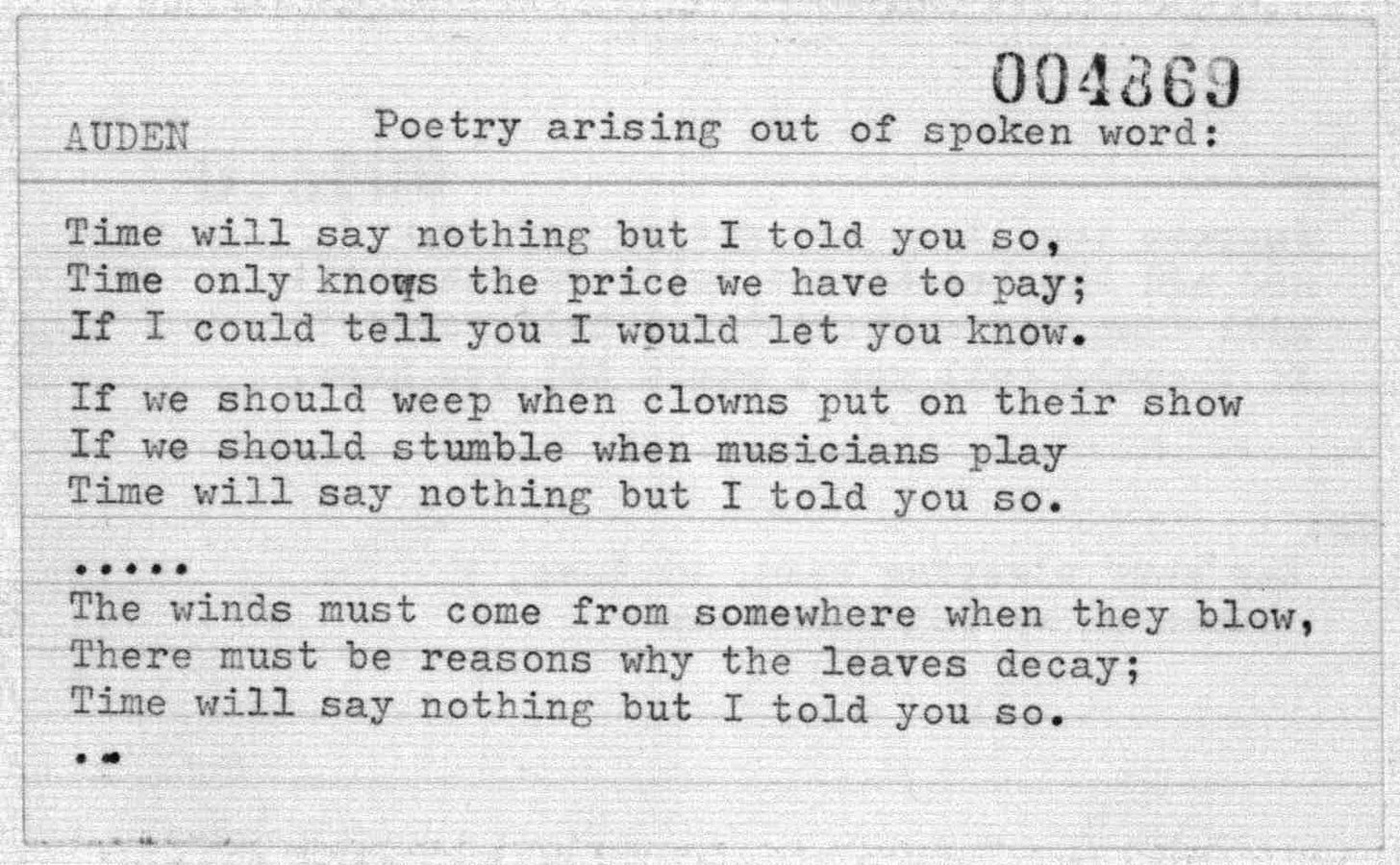 You'll notice at the top of this notecard Arendt has written: "Poetry arising out of spoken word." The line echoes one of Arendt's poems from 1952: "Were it not for the suffering seen/transcribed into words/were it not for the thoughts/twisted into sound/first spoken in poetry/then thought in song—/escaping from sorrow/into what remains."
For Arendt, it was always the language of poetry that remained. It was the language of poetry that could give voice to the chaos of a century defined by wars and revolutions, and to the incredible life of a man like Auden, who was blessed and cursed by the cruel gods of poetry.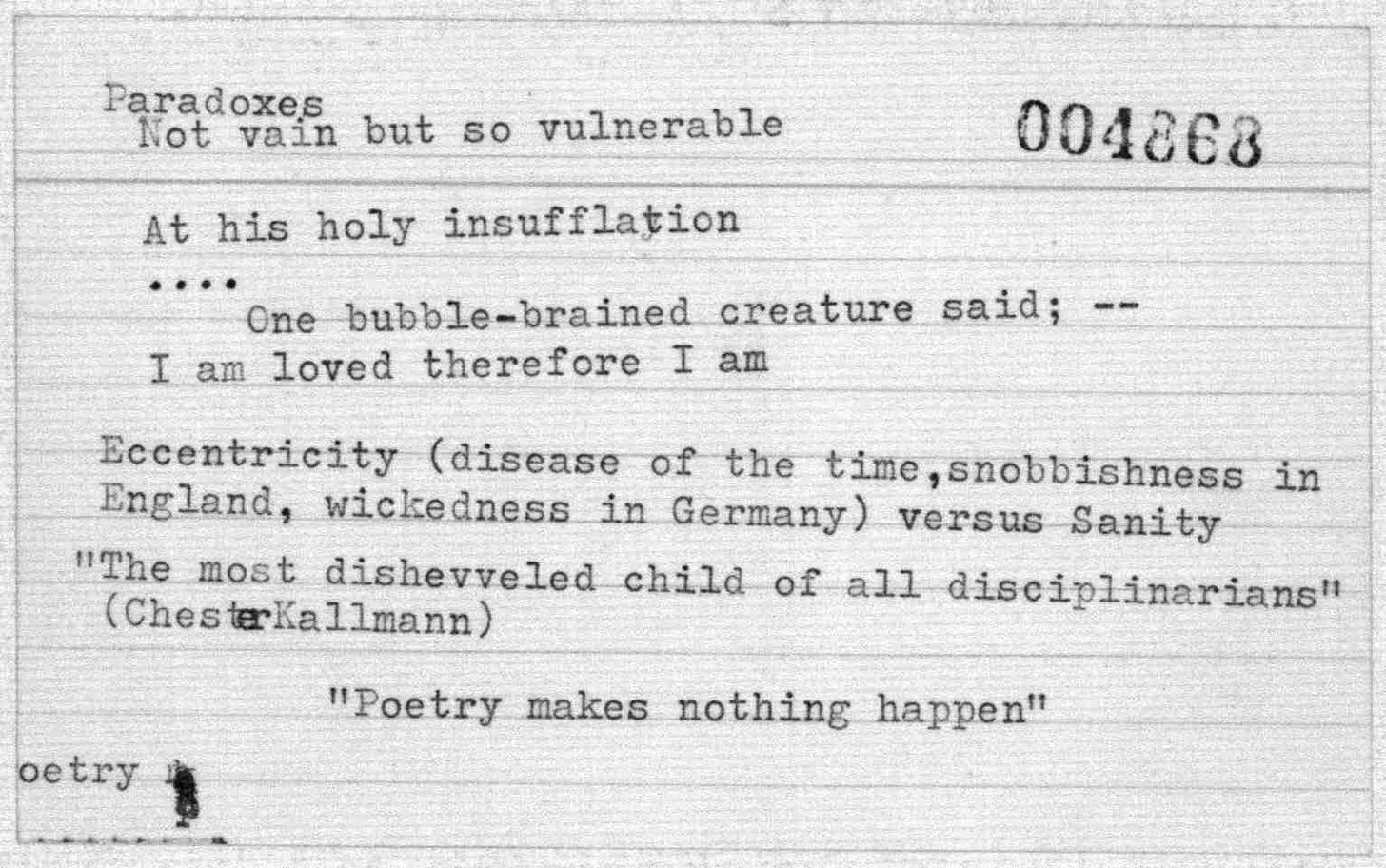 On this anniversary of W.H. Auden's death I can't help but think about how Arendt and Auden have returned to us today. After 9/11 and the election of Donald Trump, Auden's poem "September 1, 1939" was widely shared, and Arendt's The Origins of Totalitarianism became a number one best seller.
Today, I find myself reaching for Auden's poems and Arendt's notecards, because in a time when truth no longer matters, we need poets more than ever. And it is my wager that, among other things, it is the language of Auden and Arendt that offer us such solace in these dark times. It is their language that remains. Or, in the words of Auden: For poetry makes nothing happen: it survives.